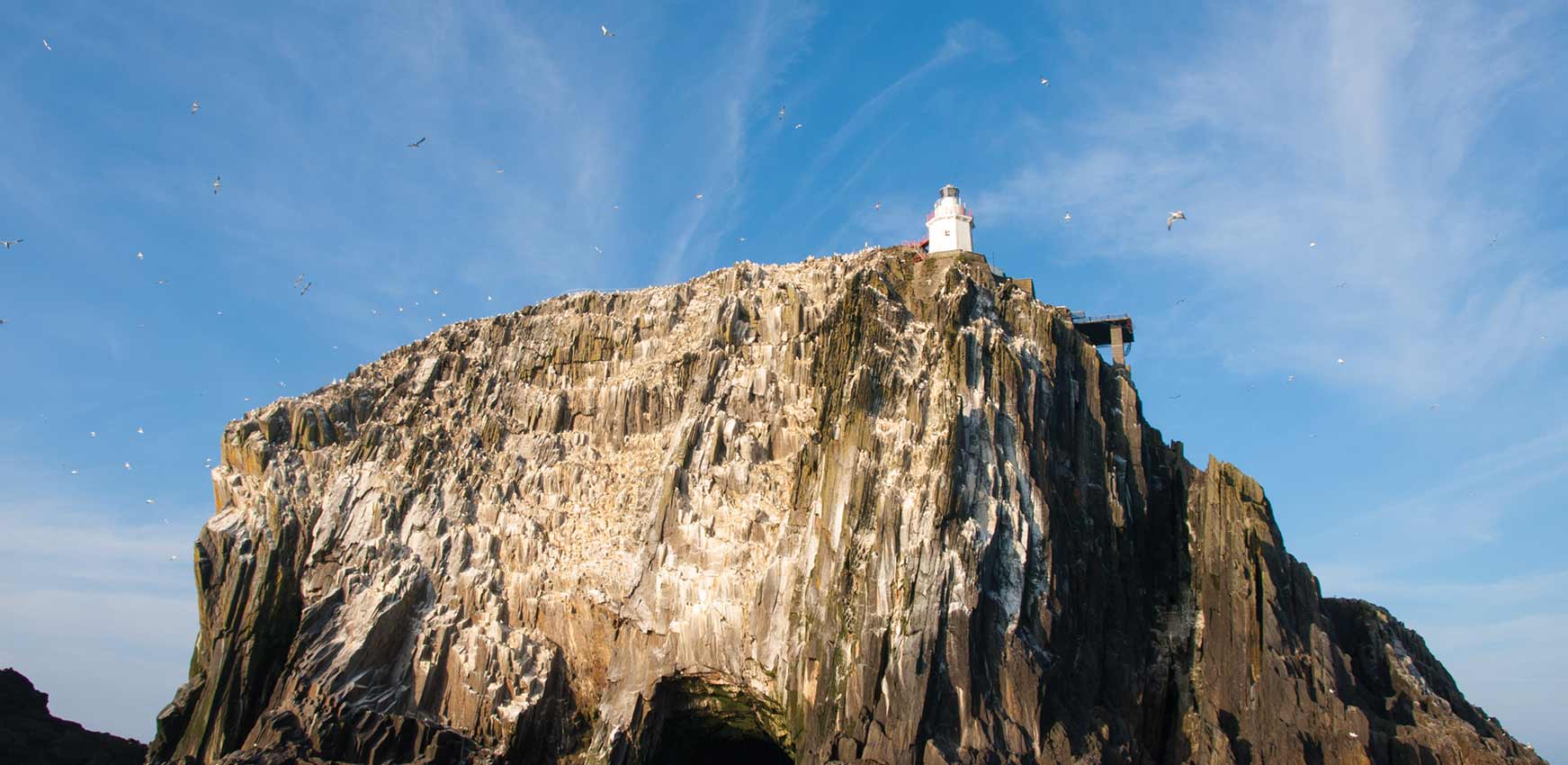 Derrynane, Beara Peninsula Coast, the Islands and Bull Rock
The Beara Peninsula coast is one steeped in history and legend. From pseudo history comes stories of a magic cow and Tigh Doinn (the house of Donn) the name given to the Bull Rock signifying death or the gateway to the underworld. Cooper mining at Allihies put the region on the map and at one time it was the top producer of copper ore in all of Ireland.
On this voyage you will also hear stories about the 'Hag of Beara' and press gangs out to capture local fishermen for the naval services. Wonderful opportunities abound here to see wildlife including views of the Gannet colony and a trip under the arch of the Bull Rock (weather and sea conditions permitting).
You will also hear stories of lighthouse building, destruction and loss of life on Calf Island and the subsequent building of the lighthouse at Bull Rock. Good views of the Dursey Island Cable Car linking the mainland to the island are also afforded on this voyage.
Tour Itinerary
Allihies
Allihies is a quaint village nestled in the Slieve Miskish Mountains and set on the Northern edge of the Beara Peninsula. Facing out into the might Atlantic, there is a beach at Ballydonegan made entirely from crushed stone. The village is forever associated with Copper Mining. A visit to the Allihies Copper Mine Museum is a must see.
Dursey Island
Dursey Island lies at the end of the Beara Peninsula and is served by Ireland's only Cable Car. At over 6 kilometres in length it marks the start of Kenmare Bay on its northern shores, while on its southern shores it stretches into Bantry Bay. In times past there were three villages, Ballynacaladh, Kilmichael and Tilickafinna. The island has a wonderful flora including orchids and supports many species of butterflies during summer months. The rich seas around Dursey contain Whales and Dolphins and many species of seabirds including Fulmar and the rare Red beaked Chough. A crossing point for migrating birds it is not uncommon for birds from Sibera to the East and from North America to the west to turn up.
The Bull Rock
The Bull Rock marks the most Southwesterly point along the Beara Peninsula. Consisting of Green sandstone and purple siltstones (382-358 million years ago) the Bull Rock is slightly older that the old red sandstone Cow Rock which you journey past. The most incredible sight, this rock is associated with folklore and legend and is purported to be the 'Gateway to the Underworld'. A light house was built here, which you will be able to view as pass by. The old Gas Works on the eastern side of the rock is visible and if weather permits you will be able to venture through the gaping natural tunnel. The rock is home to a small colony of Europe's largest nesting seabird – the Atlantic Gannet.