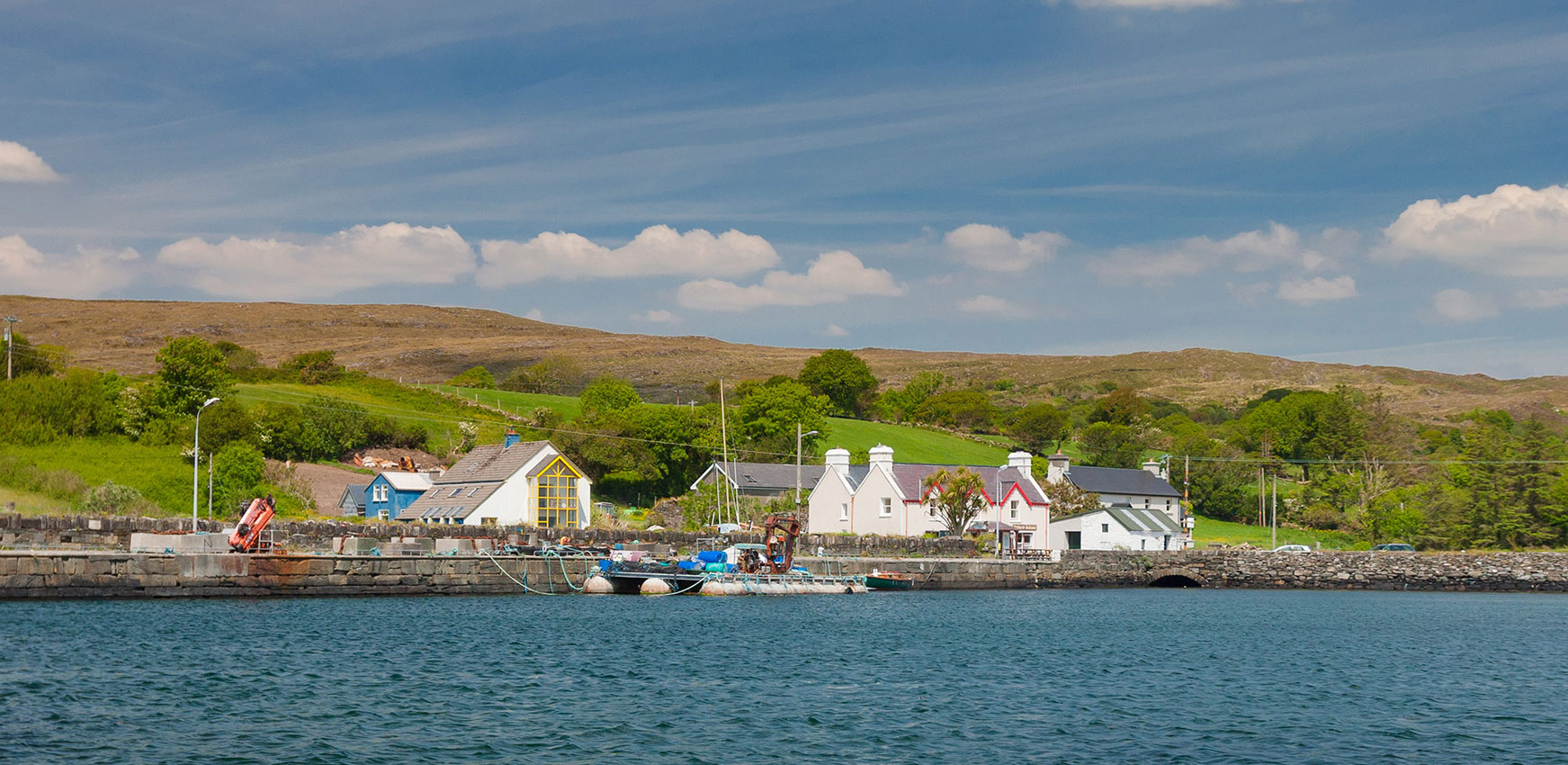 Killmacillogue and Kenmare Bay
Enjoy return trips to Killmacillogue for Walkers & Cyclists for only €25 per person.
On this voyage you head east across Kenmare Bay. Originally classified as a river in order to secure salmon and other fishing rights, the bay is a drowned river valley or Ria. Stretching 50km (30 miles) from its outer reaches to the town of Kenmare the bay is home to seabirds, whales, dolphins, rare marine life and habitats. Habitats include salt marsh meadows of both Mediterranean and Atlantic types.
On your voyage there are wonderful views of both the Caha Mountain range on the Beara side and on really good days a view of Ireland's tallest mountain Carrauntoohil. You will also see islands including Garnish and Sherky at the mouth of Sneem Harbour and Rossdohan to the east.
Tales of wartime activity in the bay include the crashing of a World War II German JU 88 (Junkers) aircraft and the subsequent loss of life. As you cruise the bay you will also hear stories about Westcove and Killmacillogue.
Tour Itinerary
Westcove
West cove on the Iveragh Peninsula is a small harbour. Difficult to navigate into, local knowledge is essential as the place is covered in Bulligs (Irish for submerged rocky reef). Views of Westcove House are afforded. Hundreds of years ago roads into the area were few and so Westcove became an important sea entry and exit point. Smuggling of wools and alcohol, to avoid taxes became the trade of the day. Westcove House dates back to the the 1650's with various extensions and additions dating to 1740. The Rev. Spotswood Green came to live there in the early 20th Century and was responsible for the dredging and development of Westcove Harbour.
Bunaw Pier, Killmacillogue
The small fishing harbour of Bunaw, Killmacillogue is a wonderful stop off point on this Inner Kenmare Bay sea journey. On the County Kerry part of the Beara Peninsula there is a wonderful pub called Teddy O'Sullivans where you can feast on the freshest of seafood.